Donor Sponsorship Program
Patriot Sponsorship – $22,500 covers ALL costs to deliver a custom trained mobility assistance service dog to a wounded Veteran and family. This sponsorship includes all costs as listed below in the Veteran Placement Sponsorship, Red/White/Blue Sponsorship, and the Boot Camp Sponsorship. The Patriot Sponsor is invited to "Pass the Leash" to the Veteran Recipient at the graduation ceremony and will be the sole presenter.
Veteran Placement Sponsorship – $14,500 covers the total training cost for the service dog over the two-year training period, is a lead sponsor and participates in the "Passing of the Leash" graduation ceremony as the service dog is presented to the Veteran.
Red/White/Blue Sponsorship – $5,000 covers puppy acquisition, training treats, dog food, estimated vet care over the two-year training period and basic obedience training.
Boot Camp Sponsorship – $3,000 covers Team Training with recipient and dog, and all other training camp expense, i.e. training harness, meals and hotel expenses.
$2,500 – will cover estimated veterinary care for all dogs for one month.
 $1,200 – will facilitate the acquisition of a high-quality puppy from an approved and reputable breeder.
$700 – will provide vaccinations, spay/neutering, and Penn Hip X-rays/reading to insure skeletal integrity.
$500 – will cover estimated kennel supplies for one month.
$100 – will pay for microchipping a puppy and for Heartgard for six months.
$40 – will feed a canine for one month.
There are many other items required in the training/upkeep of our dogs, such as dog beds, crates, and cleaning supplies.
Donations
Smoky Mountain Service Dogs is a 501(c)(3) non-profit organization with no paid administrative positions. SMSD is composed of approximately 190 community volunteers who bookkeep, write grants, puppy raise, socialize, and respite foster dogs. In addition, volunteers staff the Applications Team, Community Events Team, Transport Team, and Property Maintenance Team. This business model allows approximately 97 cents of each donated dollar to go directly to the care/training of our canines and the wounded Veterans who receive them. All donations are appreciated and we feel that it would be helpful to donors for us to provide information on what various levels of donations would accomplish. The estimated cost to acquire, train, provide health care, feed and place a mobility assistance service dog is in the $20,000 – $25,000 range (dog related cost only). Over a two year
period, each dog is trained between 1500 – 1800 hours. ALL DONATIONS ARE TAX DEDUCTIBLE.
OTHER WAYS TO HELP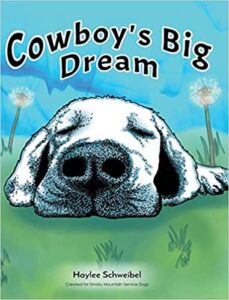 Written and illustrated by a volunteer, Haylee S. this book tells the story of our own SMSD Cowboy, now serving his veteran Paul.  Available at Amazon.com and BarnesandNoble.com.  For bulk orders, contact Deb @845-206-8267  Terrific Christmas gift  for the children!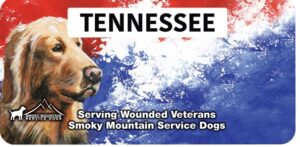 Available to anyone with a registered vehicle in Tennessee.  Apply through your local County Clerk and switch your current license plate today.  The fees will be prorated.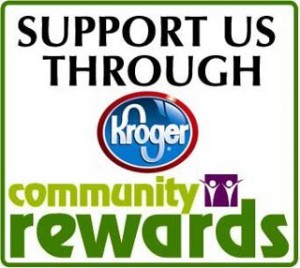 If you shop at Kroger, connect your Kroger Rewards Card to Smoky Mountain Service Dogs and we will get a donation based on total customer purchases at no cost to you.
OUR PLEDGE TO DONORS
Smoky Mountain Service Dogs promises to provide exceptional, well-trained canines to individuals with disabilities. Each dog will be specifically trained to meet the needs of each recipient. Our trainers will not release dogs who do not meet the highest levels of health, training, and maturity. Smoky Mountain Service Dogs promises to provide continued support to our recipients while the dog is in service.
PLEASE SEND ALL DONATIONS TO:
Smoky Mountain Service Dogs
8380 Fairfield Road
Lenoir City, TN  37772
If you would prefer to pay by credit card or PayPal, please click on the donate button below: